Annual Partnership – Ministry of Testing 2023
Sydney, Australia – 31  December 2022. Enov8, the IT & Test Environments, Release & Data companiy, is happy to announce an annual partnership with Ministry of Testing 2023.
Enov8 is thrilled to join the international Ministry of Testing community and contribute to its mission of advancing software testing and quality assurance! We look forward to sharing our expertise on the topic of Test Environments & Test Data through engaging articles, podcasts, and videos. Let's make software testing and quality assurance even better together!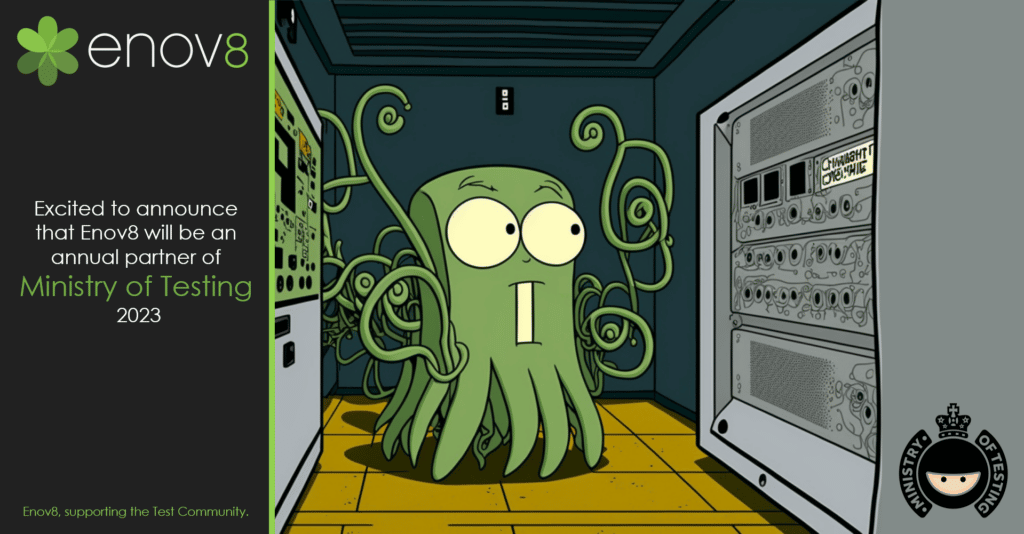 About Ministry of Testing
Ministry of Testing is an online community of software testers from all over the world. Founded in 2007, Ministry of Testing has grown to become a thriving online community with tens of thousands of members. The organization is dedicated to helping software testers at all stages of their careers by providing resources, events, and projects that support and empower them.
Ministry of Testing hosts multiple conferences (TestBashes) and training events each year all over the world. They also have an online resources platform called The Dojo which hosts TestBash talks, articles, podcasts, video courses, and more. Ministry of Testing also offers a Scholarship program and Ministry of Testing Essentials to help fledgeling testers get started in the industry.
The organization is committed to connecting with their community members no matter how big it gets. Community members can join the conversation on their forum The Club, Slack channels: Ministry of Testing and testers.chat, LinkedIn group, or by following them on social media: Twitter, LinkedIn, Facebook and Instagram.
About Enov8
Enov8 is a leading provider of IT and Test Environment Management solutions. Their suite of products simplifies the entire IT fabric, with a focus on orchestration, visualisation and automation of multiple systems across data centre, edge and cloud environments. Enov8's products provide organisations with the ability to centrally govern all their systems and components across the Software Development Life Cycle, manage releases and deployments, as well as ensure data compliance and test data management. Enov8's products can be delivered as a service, self–deployed or provided by a trusted Enov8 partner.
Sydney – 11 March 2022 – Enov8 today announced that it has enhanced its Test Environment & Test Data offerings by providing a "Data Orchestration Appliance" based on Containerization and Data Cloning (also known as 'Data Virtualization') technology. Niall...