DataView
Self Service Holistic Test Data Management.
DataView for
Test Data
Management

Self Service Holistic Test Data Management.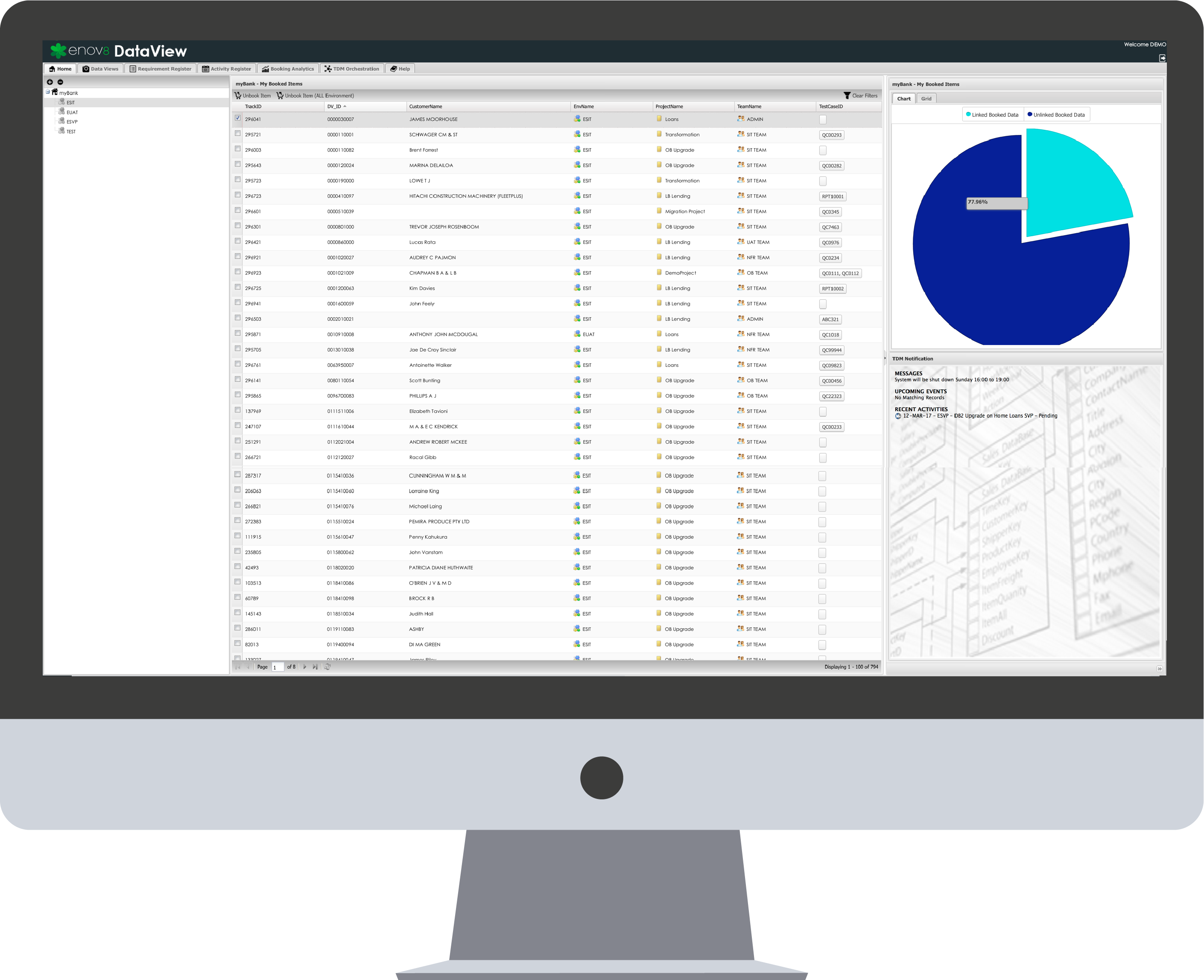 EcoSystem DataView
The DataView Suite complements your existing Test Data Management Extract Transform Load (ETL) tools and processes by promoting holistic test data accessibility and governance mechanisms.
 Test Data Requirements Capture
Centralised and collaborative test data requirement workflow management.

Test Data Validation – Security Checks
Validate that your test data is suitably privatised via DataView's own DataHotSpot auditing and production pattern matching capability.
Test Data Profiling
Better profile your test data to ensure it meets project and tester requirements.
Rapid Test Data Mining
Allow the projects and testers to rapidly self service their test data and link it back to test cases in your own test management software (e.g. HP ALM).
Test Data Bookings
Reserve your test data within DataView to prevent other testers from using it.

Central Data Orchestration
Leverage your existing ETL toolsets and invoke them via DataView's integration & orchestration engine.


Map your end-to-end test data sources.


Build 'Test Aware' Data Views.


Self Service your Test Data.
Understanding and Mining for Test Data Mining is Complex
Rarely is data in one place (many apps, many databases). Architectures and data sources are typically diverse.
Cross Platform Searches are Time Consuming
Fulfilment often dependent on many Application/Database subject matter experts. Mining can be difficult, hard to synchronize or repeat.
Too Few Test Environments Cause Data Contention
Contention increases corruption & Data Related Defects.
Contention causes an agile fall (Test execution being blocked).
Managing the Organisations Test Data is Non-Trivial
Difficult to track/identify data requirements or data usage. Difficult to understand test case and test data relationships.
Data Issues Impact Overall Testing Productivity
Less Productivity means weaker exercising of solutions. Lack of agility results in costly delays to your projects.
Testing productivity through rapid accessibility
Testing productivity via rapid 'validation' of data
Tester up-skilling via data (& relationship) simplification
Safe sharing of data (contention avoidance)
Proliferation avoidance through data usage analytics
Improved Securitization via profiling & validation methods