Launch your Environment & Release Management Journey
with a 3 Month SaaS Evaluation Edition.
Evaluate Now!
Enterprise Intelligence
An end-to-end "IT Intelligence" platform promoting transparency, control, and productivity across your IT & Test Environments, Releases & Data.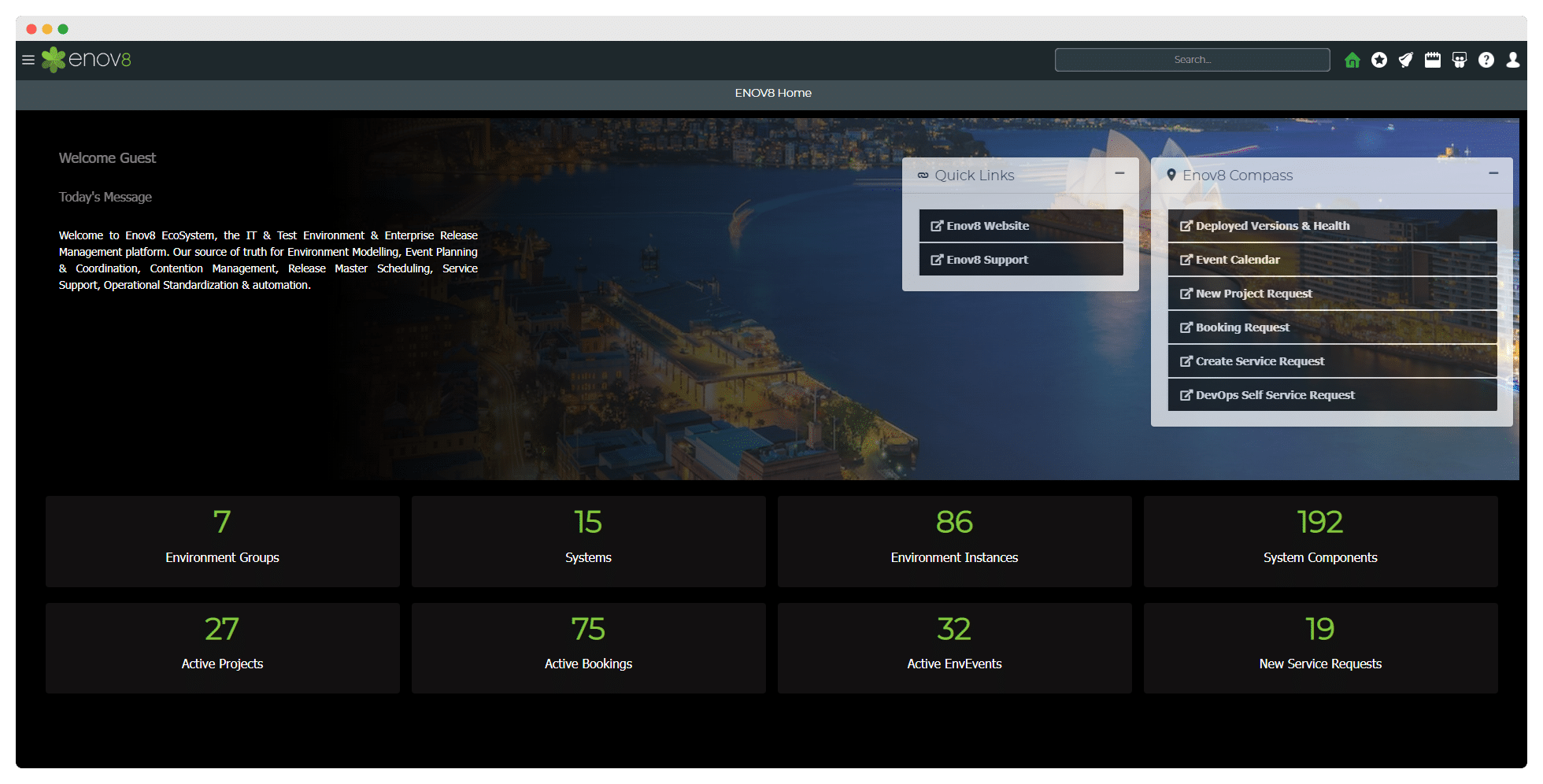 Scaled agility across your IT fabric
Streamlined delivery through IT & test environment, release & data best practice.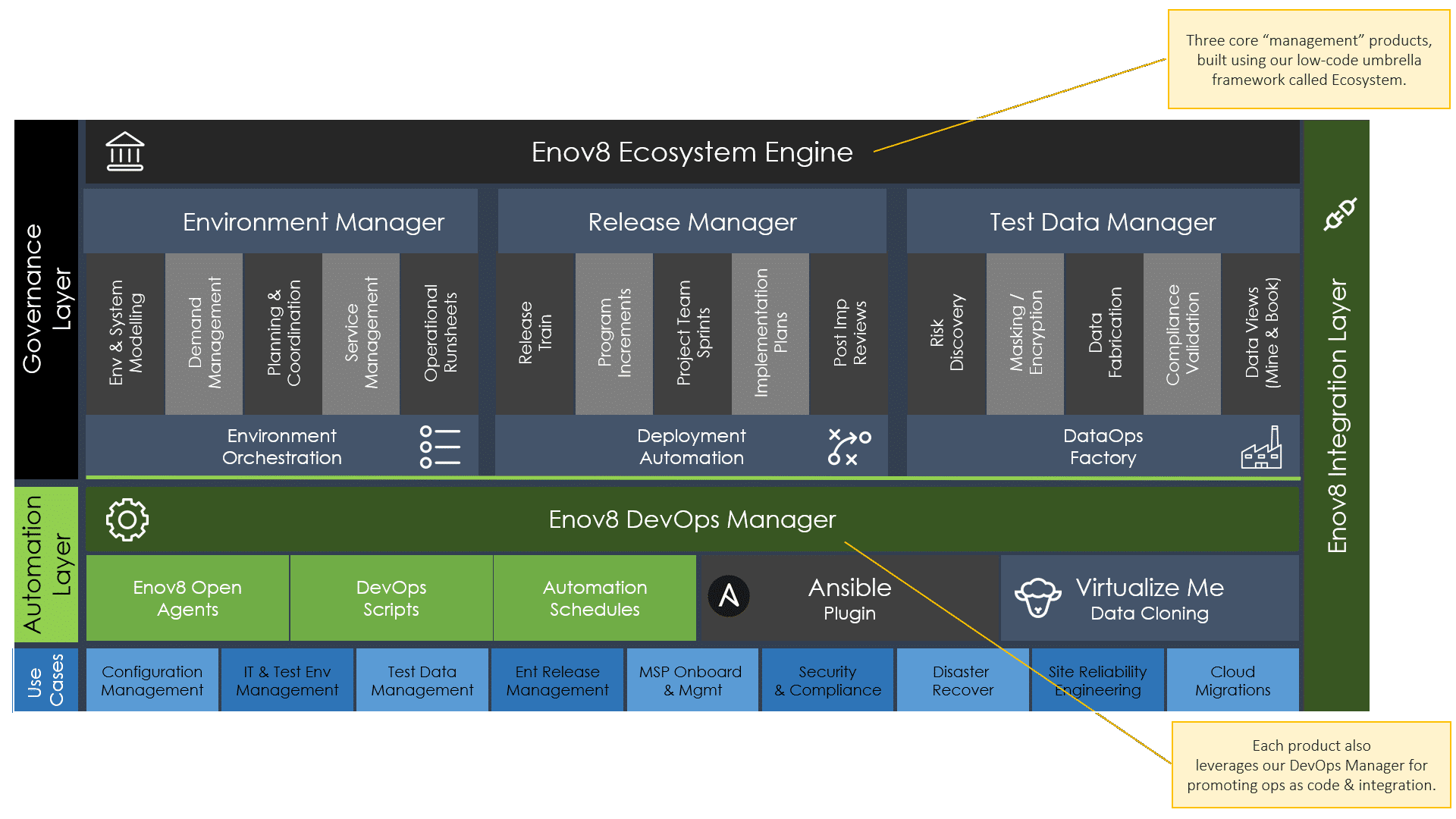 ​A Cloud Native Architecture
Enov8 platform provides unmatched flexibility, allowing enterprises to host it on-premises, in the cloud, or across multiple clouds like AWS, Azure, and GCP. Installation is effortless, supporting standard Linux Server setup, load balancing, or containerization for added convenience.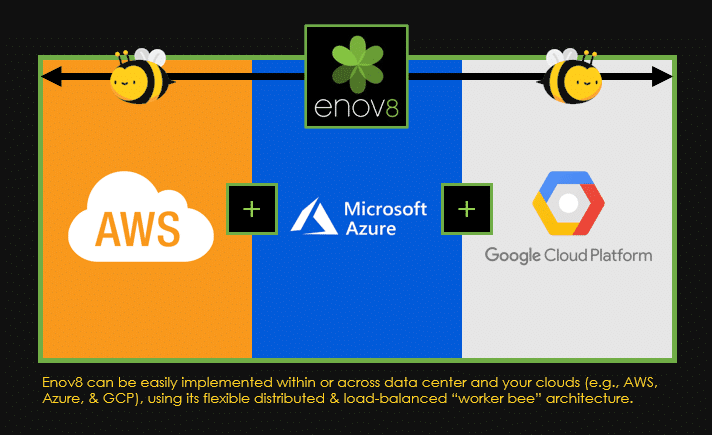 Transparency
Improve visibility of your complex IT fabric allowing better collaboration and decision making. Governance
Manage complex computer systems & the end-to-end IT fabric through a centralised portal.

Measurement
Measure test environment usage to reduce IT spend and increase project productivity.

Operational Standardisation
Eliminate chaotic and non-repeatable operations by establishing control via centralised runbooks and using automation on regular & time consuming tasks. Availability & Continuity
Manage change and contention effectively whilst providing real time health status and powerful analytics to determine business impact.

Automation Streamlining
Make automation available to project & test teams through a self-service gateway to improve productivity.
Meet Enov8's enterprise solutions
 A suite of solutions all built on a single integratable framework called Ecosystem.
Environment Manager
An IT and Test Environment Management Platform Promoting Transparency, Control & Productivity.
Enterprise Release Manager
An Enterprise Release Management solution providing real time control of your IT release Portfolio.
Test Data Manager

DevSecOps your Data and Risks. A holistic Test Data Management and data compliance framework.
Launch Your Digital Transformation
Get your free 3 Month Evaluation Edition Today!