IT Resilience Manager
An IT Resilience Management Module for EcoSystem.
An IT Resilience Management Module.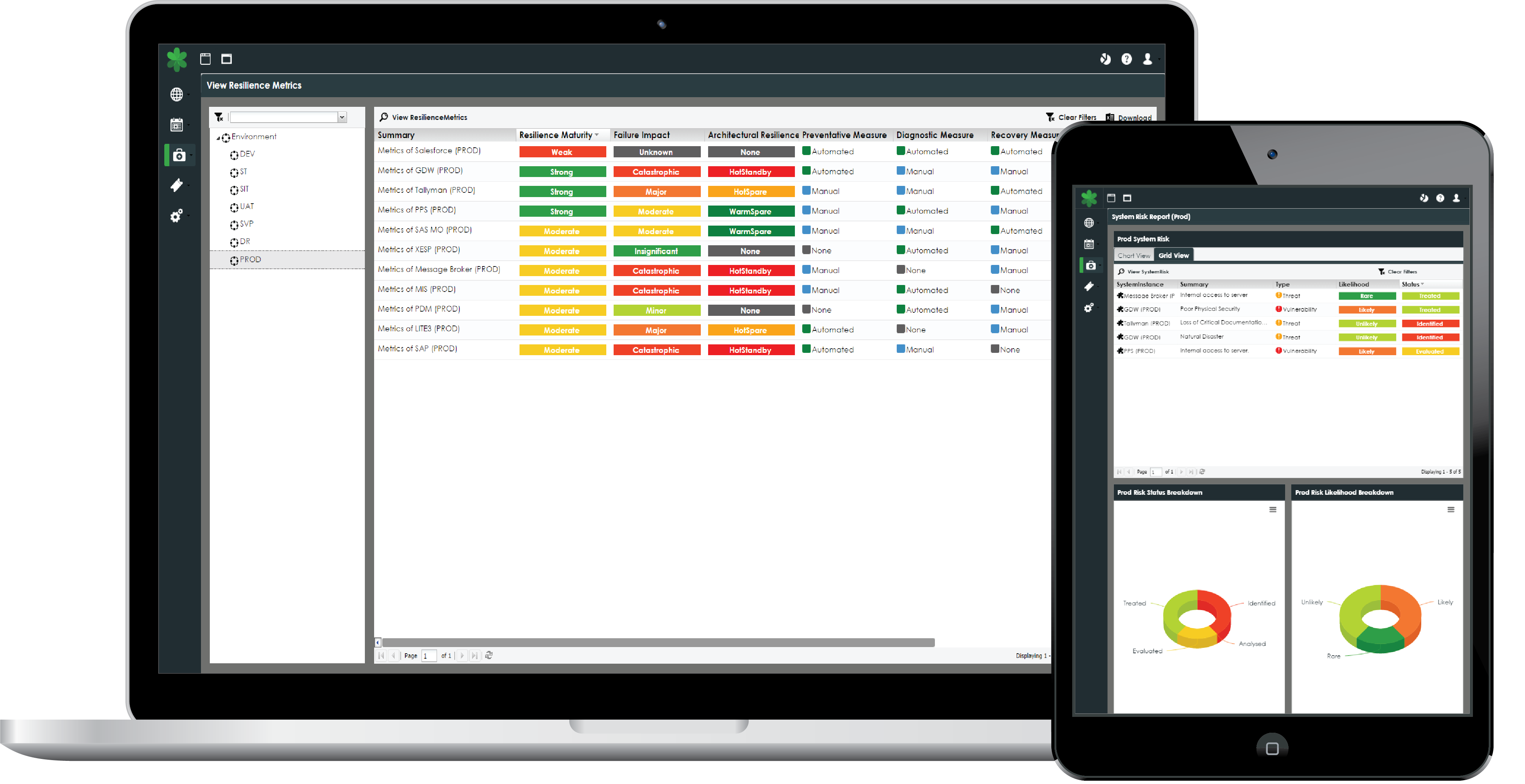 IT Resilience Manager
An "extensible" IT Resilience Management module that promotes System, Service & Business Process continuity (zero outages) in production and across the project delivery life-cycle. This is achieved through uplifting "enterprise wide" visualization of your IT Environments and by introducing resilience focused governance and automation.
IT Resilience Modelling
Remove complexity and improve visibility of your IT fabric to allow for better collaboration and decision making.
Capture Resilience Metrics
Capture and centralise your resilience metrics to promote seamless testing, auditing and reporting.
Cross Life Cycle Systems Governance
Ensuring end-to-end resilience in both your Production (Customer) & Non Production (Project) IT Environments.
Central Planning & Coordination
Proactively coordinate your resilience activities across the lifecycle.
IT System, Service & Processes Mapping
Visualise how your Systems, Services and Business Processes relate end-to-end and allow for "What-If" analysis to promote proactively planning.

Release Dashboards & Reporting
Centralised Status, Accounting & Reporting allowing for point in time measurement and trend analysis.
Watch an overview of EcosystemRM:
Enterprise Visibility of your IT Resilience across Production
Enterprise Visibility of your IT Resilience across Dev, Test & Projects
Recovery Avoidance through promoting Resilient & Secure Architectures
Recovery Avoidance through Proactive Operations
Recovery Avoidance & Streamlining through Resilience Automation
Streamlined IT Project Delivery & Time to Market
Avoiding Business Outages, Recovery Costs & Brand Damage
Centralised Status, Accounting & Reporting