Solutions for IT & Test Environment Managers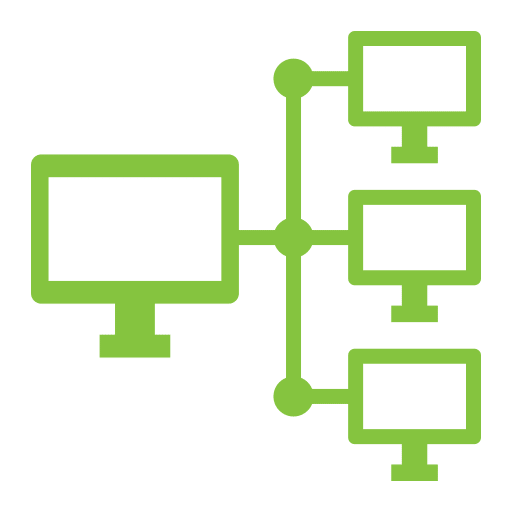 OBJECTIVE
Needs of an IT & Test Environment Manager
The role of the IT & Test Environment Manager is to ensure the Production & Non-Production Environments (AKA the Test Environments) are properly understood, managed (governed & coordinated) and "Fit for Purpose" i.e. fit for usage by the relevant SDLC teams (development teams, test teams and the broader IT project).
Note: In many organizations, these two roles may be separated into Production Environment Managers and Test Environment Managers; however, most of the fundamentals and best-practices would be common.
The key objectives of the Environment Manager are often challenged by environment scale, ongoing change, demand complexity and lack of real-time insight (information aggregation) due to a reliance on "inappropriate & high-volume" tooling methods like Visio, spreadsheets, Word documents, Wikis and email.
SOLUTION
To address the needs of Environment Managers there is a need to move away from existing agricultural tooling methods and move to a platform that provides centralized, dynamic and real-time information that crosses your IT Environment assets (e.g. Systems, Instances, Components & Interfaces) and related operations (e.g. Build, Deploy, Test).
The enov8 platform is, conceptually, an IT Environments "integration & orchestration umbrella" that sits holistically across your IT landscape i.e. Applications, Data, Infrastructure, People, Process, Products, Financials & Relationships and brings the real-time intelligence together in such a way that it simplifies your analysis, decision making and ultimately execution. Execution that is both streamlined and timely, accelerates IT project delivery and reduces enterprise cost overheads.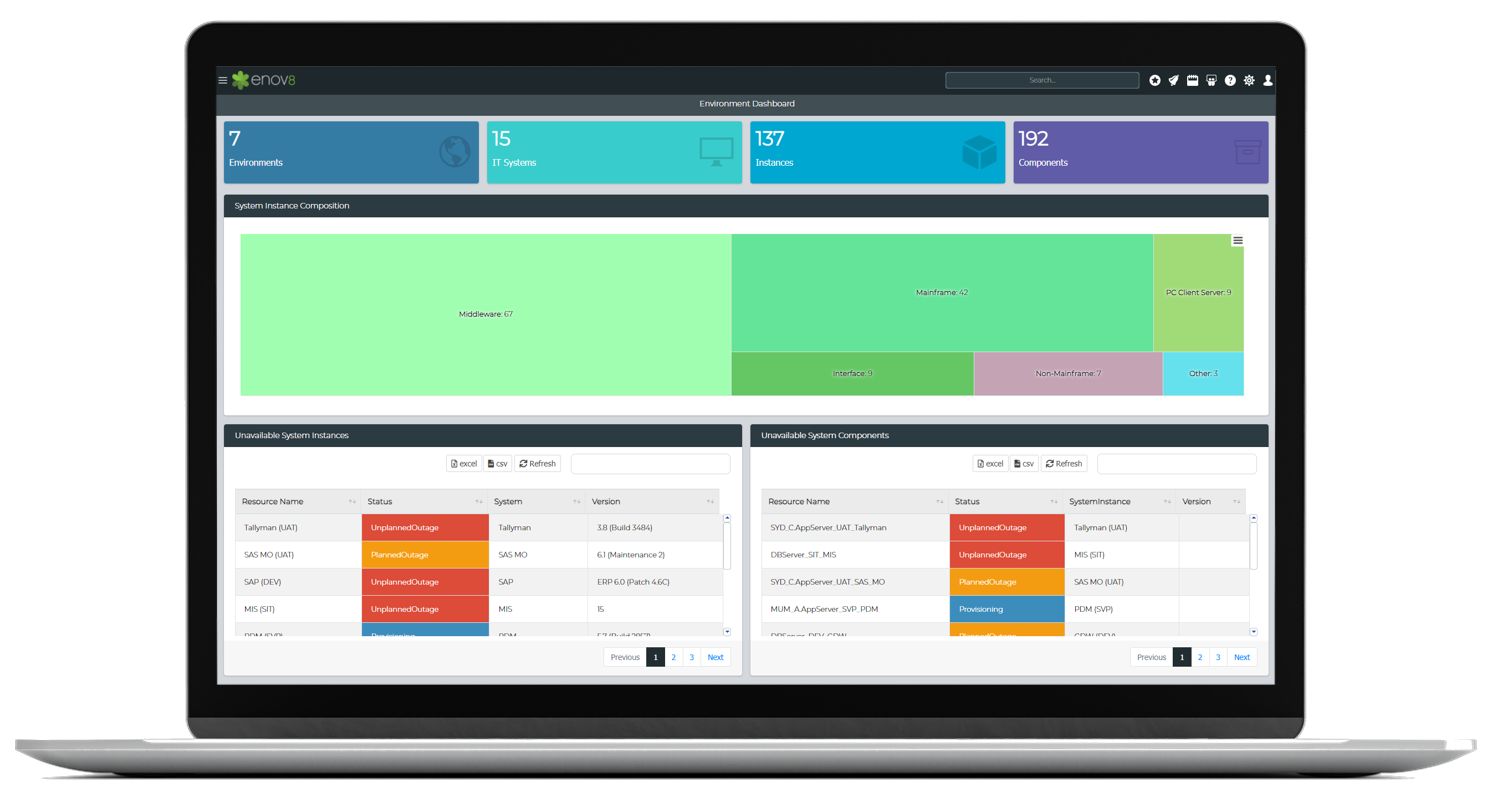 Model current state IT & Test Environments
Enov8 has advanced knowledge management features that provides detailed & real-time mapping of all your Heterogeneous* IT and Business elements.
*Apps, Data, Infrastructure, Datacentre, Cloud, Legacy, Physical, Virtual & Hybrid etc.
Track contributor projects and ensure they are aligned with broader release portfolio and timelines
Enov8 allows you to Implement Release "Milestones & Gates" that each project must follow to ensure success of entire operation. Use the platform to track project progress, communicate to stakeholders, identify slippage (or problems) and ensure proactive and timely remediation.
Plan and coordinate the set-up of "Fit for Purpose" Environments & Data
Enov8 provides cross lifecycle environment calendars, schedules and visual run books (Kanban's) to make operations timely, simple, streamlined and fun.
Service consumer demand through capturing and acting on environment requests
Enov8 gives you a choice of integrating with your enterprise ITSM solution and/or using the "out of the box" lean service management capability that offers both ticketing (e.g. change, release & incident requests) and "Self Service Portals".
Promote consistent, reliable & streamlined release operations
Enov8 supports standardising and templating of operating procedures via runbooks (inc implementation plans) and automation streamlining through integration with your favourite tools.
Ensure effective collaboration with your stakeholders and engineers
Use enov8 "executive dashboards" to advertise your "great work" and share information like environment architecture, health, availability, demand & scheduled activities across teams and silo's. And facilitate collaboration, analysis & better decision making.
Use the enov8 platform to capture and analyse all the relevant information & metrics relevant to your operations. Analyse it from different perspectives e.g. Systems, Projects, Teams and use that information to understand behaviour and opportunities to improve.